Real Estate's 'Behind the Bricks' branding campaign video wins prestigious award
---
Real Estate's 'Behind the Bricks' branding campaign video wins prestigious award
April 2, 2018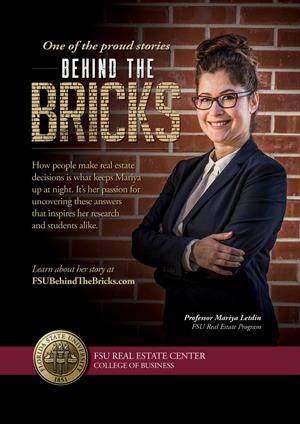 A video element of a broader integrated branding campaign launched last year to draw attention to the FSU Real Estate Center has been recognized by the American Advertising Federation Tallahassee with a Silver Addy award. The video previously garnered a national Silver Telly Award, honoring the best in TV and cable, digital and streaming, and non-broadcast productions.
The award-winning video, the first of others planned for the campaign, features assistant professor Mariya Letdin, who talks about her passion for producing the next generation of real estate professionals and her research in the field. The video can be seen at fsubehindthebricks.com.
The FSU Real Estate Center supports the college's real estate program by facilitating student learning experiences beyond the traditional classroom, securing resources to hire and retain world-class faculty members and strengthening relationships between professionals and academics. FSU's Real Estate program is ranked No. 6 among public institutions and No. 11 in the nation by U.S. News & World Report (2018).
The branding campaign targets industry professionals, including graduates of the Florida State University real estate program; deans of business schools accredited by AACSB International (The Association to Advance Collegiate Schools of Business), who contribute to national rankings; and potential real estate students. Print ads also are part of the campaign.
AAF's Addy Awards are the advertising industry's largest and most representative competition recognizing the creative spirit of excellence in the art of advertising, according to Ashlee Weber of Moore, a Tallahassee-based communications agency, which worked with Will Butler, past chair of the center's executive board, a team from the college and the center to conceptualize and develop the campaign.
AAF's Tallahassee chapter received more than 250 entries from agencies and creatives across Tallahassee and spanning more than 70 categories including collateral, video, integrated campaigns and other elements of advertising.
By: Barbara Ash