FSU-Kislak forum in Miami looked at trends impacting retail property market
---
FSU-Kislak forum in Miami looked at trends impacting retail property market
March 3, 2020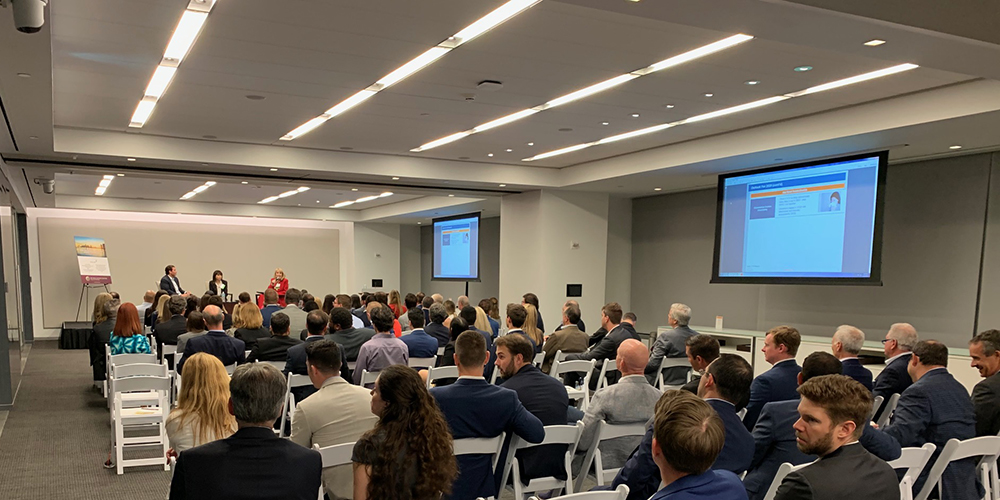 Alongside industry executives and decision-makers, Florida State University's top real estate students received an insider's view at the 2020 FSU-Kislak Market Strategies – A South Florida Executive Forum. The annual, invitation-only event, hosted this year at the Miami law offices of Bilzin Sumberg in March, brought real estate professionals together to discuss market conditions, vet strategies and identify emerging opportunities. 
Featured panelists Ross Cooper, president and chief investment officer of Kimco Realty Corporation, and Dana Telsey, CEO and chief research officer of Telsey Advisory Group, discussed the trends impacting the retail property market. As an officer at one of North American's largest publicly traded owners and operators of open-air shopping centers, Cooper works closely with Kimco's Investment Committee, risk team and regional leadership overseeing the development and implementation of Kimco's vast acquisition and disposition strategy. Considered a consumer guru, Telsey is an equity research analyst covering the retail industry and was ranked No. 1 analyst by Institutional Investor magazine for seven years. Moderating the forum was FSU alumna Beth Azor, founder and owner of Azor Advisory Services, South Florida's premier retail real estate management, development and commercial real estate education firm. 
While in Miami for the forum, students coordinated a full schedule of corporate tours of South Florida real estate companies, including CBRE, JLL, Kimco Realty Corporation, The Kislak Company, Inc. and Stiles. 
Executive Sponsors 
The Kislak Family Foundation, Inc.
JLL 
Avison Young
Oaktree Capital Management 
Berkowitz Development Group, Inc.
REH Capital Partners, LLC 
Bilzin Sumberg
Saglo Development Corporation 
CBRE
Salzman Real Estate Advisors 
Centennial Management Corp.
Square2 Capital LLC 
Cushman & Wakefield
Stiles 
Program Partners 
Donna Abood
Bob & Darby Hold 
Beth Azor
Evan D. Jennings 
Kenneth Bacheller
The Kislak Family Foundation, Inc. 
Mark C. Bane
Brett & Cindy Lindquist 
Harold & Barbara Chastain
William & Stephanie Lloyd 
Marshall Cohn
Shawn McIntyre/North American Properties 
Peter & Jennifer Collins
Greg Michaud 
John Crossman/Crossman Career Builders
Kyle Mowitz and Justin Mowitz 
Scott & Marion Darling
Francis Nardozza 
Florida State Real Estate Network, Inc.
Kyle D. Riva 
Mark & Nan Hillis 
The forum was organized with generous assistance from: 
Tom Bartelmo, The Kislak Organization 
Manny De Zárraga, JLL 
Rocco Ferrera, Stiles 
Todd Liker, Oaktree Capital Management 
Thekla Salzman, Salzman Real Estate Advisors 
David Singer, Berkowitz Development Group, Inc.