Enterprising student takes full advantage of college's offerings
---
Enterprising student takes full advantage of college's offerings
January 2, 2018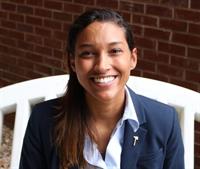 As far back as she can remember, Amanda Davis has been a go-getter. At age 10, she bought toys in the United States and sold them for a profit when she and her parents visited family in Rio, Brazil. Her profits were even better when she purchased low-priced items in Rio and sold them to friends in her hometown of Naples, Florida.
As a sophomore at the Florida State University College of Business, Davis co-founded two companies and, as a junior, started a business aimed at the real estate industry that uses a drone to take aerial photos and videos of properties. As a senior, she is building an impressive client list of realtors for the business. She also was hired by the college to take aerial photos of the Legacy Hall site, the college's future home.
"I've always had that mindset of 'How can I make a buck?'" said the real estate and entrepreneurship major, who graduates in May.
Davis has made a point of taking full advantage of her time at FSU. She's gone to real estate conferences in Las Vegas, Orlando, Miami and Tallahassee; attended lectures by successful real estate alumni; interned at Centennial Management Corp. in Miami Lakes, and Crossman & Company in Orlando; and worked part time from home with Apple, Inc. as a customer service adviser. At FSU, she is president of the Society of Women in Real Estate, serves on the executive board of the Real Estate Society and participates in the Young Entrepreneurs Society. She also earned her Florida real estate license over the summer.
With an eye on possible future employment, Davis made herself known to the leadership at what she considers would be her "dream employer," Turnberry Associates, whose properties include Miami's Aventura Mall and a portfolio of Marriott hotels, including the Fontainebleau in Miami Beach. She landed an invitation for an exploratory interview and a private tour of the company's properties.
Davis also sought out College of Business alumnus John Crossman as a mentor. Crossman says he has met hundreds of students over the years and considers Davis among the very best. The two met at the beginning of her junior year through the college's Professional Mentorship Program.
"When students reach out to me for career advice, I ask them to do four or five things that will help their career development and increase their skill set," said Crossman, a 1993 real estate graduate and 2013 College of Business Hall of Fame inductee. "Amanda took it seriously, and that built my trust and confidence in her."
Crossman said Davis took the initiative to turn their student-mentor relationship into a professional relationship and proactively sought ways to help him.  She has become a trusted advisor to him.
For her part, Davis followed his advice about becoming familiar with the careers of the members of the FSU Real Estate Center's Executive Advisory Board. Doing that, as well as attending guest lectures at the college, helped her understand the many real estate industry options available to her, she said.
One of the board members is 1993 alumna Heather Turner, managing director and principal at DiNapoli Capital Partners, whom she sought out at a Real Estate Society dinner. Their conversation enabled Davis to pinpoint her own career path.
"I'd been trying to figure out what avenue would help me reach my goals. Should I work at a small firm, where I could benefit from being known by management, or a large, national firm, where I might be lost in the crowd?" Davis said. "I am confident now that doing acquisitions, like Heather is doing – buying low-performing hotels, refurbishing them and then selling them – is the way for me to go. My goal now is to learn all I can to make that happen, and, eventually, to own and manage my own real estate portfolio."
"The college and the FSU Real Estate Center have been transformational for me, at the very least, because they have allowed me to gain experience and confidence moving forward."
Crossman has faith that Davis will succeed in whatever she does.
"Amanda has all of the tools to be an exceptional leader in the industry," he said. "I am looking forward to watching her career develop."
By Barbara Ash