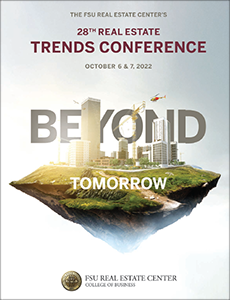 The FSU Real Estate Center will host the 28th Real Estate TRENDS Conference on Thursday, October 6 and Friday, October 7, 2022. Get excited for this distinctive event to be 100% in-person. With space limited to approximately 700 guests, the event is expected to sell out!
Registration now open! Register today to secure your spot. Visit FSUTRENDS.com for detailed conference information including featured speakers, conference schedule, registration information, hotel accommodations and more!
SPONSOR OPPORTUNITIES
Please consider your generous involvement in this event which supports the mission of the FSU Real Estate Center and the delivery of student learning experiences year-round. Your support has been key to the success of the conference hosting prominent speakers such as Mary Erdoes, Steve Forbes, Kathleen McCarthy, Jack Nicklaus, Wilbur Ross, David Rubenstein, Barry Sternlicht and many others. To continue to expand the national reach of the conference and deliver a premier event, please visit the sponsor webpage for details.
title-inside title-centered
2